About WIHAYO Packaging
(Est. 2015, launched 2017) "WIHAYO is a unique soju made with a traditional Korean recipe and all natural ingredients – the difference and uniqueness of WIHAYO is the fact that its core ingredient, rice, is ground by one of the oldest and tallest windmills in the Netherlands, dating from 1604. A pinch of barley is then added during the distillation process to give it that malty, full-bodied depth, resulting in a subtle aftertaste that carries a hint of Holland's national tipple Jenever – the birth mother of gin. A true fusion therefore of East and West – a Korean recipe literally given a Dutch spin."
Relevant Quote
WIHAYO is bottled in an iconic 700ml green glass 'apotheek' style bottle and has a hardwood stopper laser engraved with our distinctive marque – itself a representation of wind power and rice grains, Wihayo's principle ingredients. All brand elements and messaging are screen printed directly onto the bottle with white ink. A soju that looks as good as it tastes.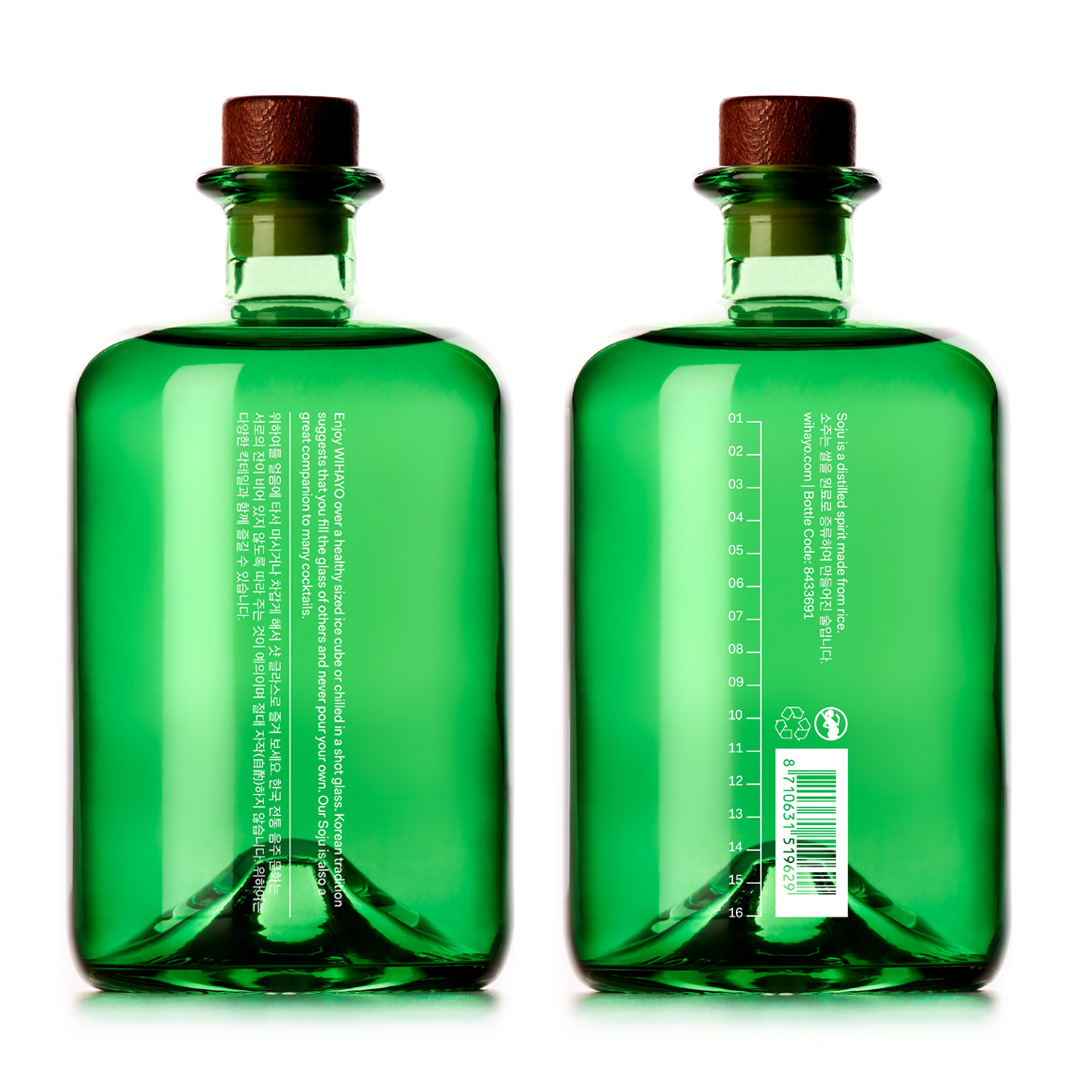 Packaging front and back image of bottles printed with white ink
Opinion
This opinion will be short as there isn't much to object to in either the logo or the packaging. The few design elements in play are very well thought out and crisply executed. Although the icon looks like something anyone could mock up in Illustrator, it has a solid concept of representing rice grains and a windmill and it has the kind of simple geometry we wish some clients would let us get away with. The packaging is great with the white ink highlighting the beautiful green of the bottle. The laser-engraved cork is hard to top. (See what I did there?). The video might be my only complaint; as compelling as it is, it has a very different aesthetic — too cool and jetset-y — from the packaging that feels like they are not related. Nonetheless, it's a wonderful design all around.
Design by
Smörgåsbord (Amsterdam, Netherlands)
Source :Brand New
Check out more ideas on PrintItZA: New Packaging for CoastWise