Art book printing – Your imagination put on paper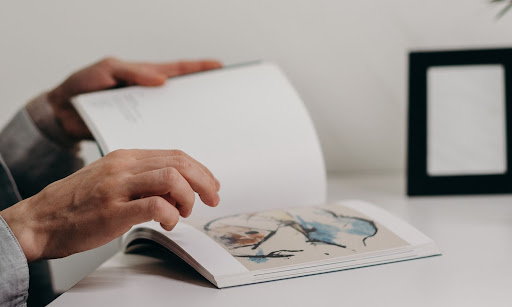 If you're a visual artist, your work is a tangible extension of your soul. It's a creation of your mind that will never be fully expressed with mere tools of the three-dimensional realm. But you can showcase the intricacies of your art with the best the civilization has to offer – high-quality art book printing services by Print It ZA.
We are committed to capturing the essence of your masterpieces and bringing them to life on paper, whether it's your sketchbook ideas, catalogue of paintings, or inspiring art stories. It's time for fine art and the finest service to converge.
Print your own art book
online
With Print It ZA, a leading producer and maker of art books, you can easily control the way your creations goes live. Upload your artwork in PDF to our user-friendly platform, select your options, and rest assured your book is well underway in South Africa. You can review the layout before finalizing your order so that every intricacy is just as you envisioned. 
Are you new to art book printing online? Creating your masterpiece is not a matter of guessing or pretending you're a printing expert. Our guidance is included in the service, so you can snap up gallery-worthy art books. 
Custom art book printing
tailored to your creations
Every artist's style and vision are unique and deserve to be celebrated. So why settle for cookie-cutter books and standard binding? Customize the tangible shell of your artistic creations to bring your art book to life in the most authentic way.
Choose your perfect paper type, finish, and binding option for any number of pages. Create a personalized art book that's a testament to your identity!
Share your art without paying thousands
Artbook printing shouldn't come at a hefty price tag because you deserve to be able to spread your art without breaking the bank. Release your creation with the most competitive prices in South Africa, knowing that every page will leave a lasting impression. 
While some may settle for cheap art book printing services that don't care about artistic vision, we believe you shouldn't have to sacrifice your perspective. We pay meticulous attention to details while double-checking that each stroke of your artwork is reproduced accurately.
We run a 24/7 art book printing company in Johannesburg. Our services are powered by solar panels and generators that help us produce your art books in time and support your creative process. Before leaving our workshop, your art book will go through rigorous quality assurance to match your vision, preferences, and distribution requirements.
Show off your artistic genius
Your masterpieces can no longer be crammed on a hard drive. They deserve to be revered by the world in their full-size, palpable glory. Why choose ordinary options when you can have the extraordinary with Print It ZA? Contact us to talk about art book printing adapted to your creations and pull off your artistic debut now.