Comic printing – A visibility boom for your superhero stories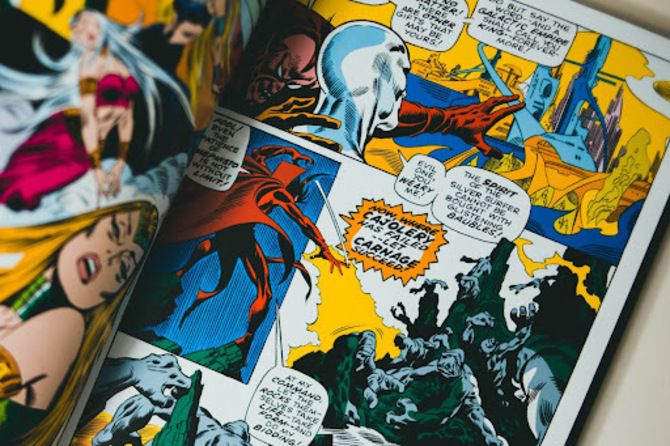 Comic books are all the rage, with DC and Marvel sharing a multi-billion-dollar market. When it comes to South Africa, the country has a budding industry and several ongoing series, such as Kwezi, Gofu and Zana. Despite what you might have heard, indie comics can become successful – just look at the popularity of Invincible, Sweet Tooth, and Saga. If you want to break into this scene with a brilliant work of your own, print comics online at Print It ZA. We can ensure your unique vision finds its audience.
Custom comic book printing
: From digital to paper in no time 
If you're serious about entering the comic book industry, chances are, you don't have the biggest budget to spare. Fortunately, we can print the first batch of your work for a reasonable price, proving that using a cheap comic book printing service doesn't mean you have to cut back on quality. 
At Print It ZA, we apply the same care to one-shot issues and serialized comics. You'll be satisfied with the results, we can print your own comic book now.
To make your work ultimately enthralling, you can:
Customize the look of the cover to add more sheen

Print grayscale or colour comics

Experiment with the format type

Select the orientation of pages

Pick a hard or soft cover

Highlight your unique stories with any binding option

Choose the type of paper
Sometimes, your comic book lacks a certain design flair or content structure consistency. If you ever need help with these aspects, feel free to ask for a consultation. Print It ZA has comprehensive graphic and design knowledge to make our comic book printing service all-encompassing for you as a publisher.
To adjust your order or request assistance, contact us via phone or email.
How fast can you
print my comic book
?
We do our best to deliver your comic books as soon as possible, but it depends on the quantity and complexity. Delivery is faster within the city limits than nationwide. Once we're done with comic book printing, we can send your creations to your doorstep. 
Unlike other printing businesses, we work tirelessly 24/7. You can send your comics to print at any time of the day, even during the weekend. In the event of a power outage in Johannesburg, the printing process will go as usual, thanks to power generators installed at our facilities.
Print It ZA's capabilities can accommodate your printing demands, no matter how small or big. Plus, our flexible prices won't leave you bankrupt, and the best part is that you control the printing process.
Stick to the affordable way into the comic book niche to become a genre disruptor in South Africa. Let Print It ZA invest its own time and effort into printing your comics online to help you reduce upfront costs and increase profit margins!