Establish your digital presence with Print It ZA
website designers in Johannesburg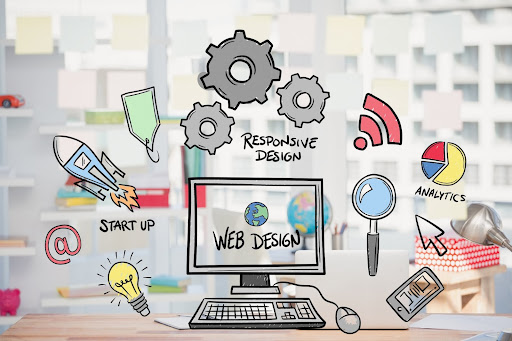 It takes a few seconds for a user to size up your business by scrolling through your website. If its design is cookie-cutter and poorly optimised, it will hardly encourage them to stay. Whether you're into food and drink, travel or any other business, uplifting your digital presence is not easy. But Print It ZA has a team of experienced web designers on board to help you out.
The web is now the first place people go to look for products and services. An array of options makes them progressively savvier about which brands to choose and business owners pickier about which web designer companies to team up with to increase brand awareness and visibility. 
Print It ZA's technical and visual design experts create websites tailored to your business niche and aesthetic needs. From browsing pain points to target audiences, we consider all aspects to maximise your web design project.
Web designers near me
: Start doing better online
Whatever business you're running, you can do it better by going online. As the goldmine of opportunities, the web allows you to grow your audience and notch revenue numbers you didn't even think you could achieve. Simply build a visit-worthy website and roll out your marketing strategy to welcome new clientele. 
Even though you can come across many web designer companies in Johannesburg, only a few of them can help you cement your digital presence. Print It ZA creates A-class website designs that are exclusive to what you're doing and your industry. They are mobile-friendly and fully customisable to:
Better serve your audience

Drive qualified traffic to your website

Convert page visitors into paying customers
When created by Print It ZA, your website will allow you to stay connected with your customers and popularise your brand. That's what all our creations have in common and what makes our services popular among business owners.
Why Print It ZA comes first when searching for a
web designer near me
A positive first impression is half the battle. And web design is what affects your visitors' intentions once they stop by your website. Make no mistake: if they rant on the user experience as soon as they click a few buttons, the first impression is ruined and almost impossible to recover from.
Our website designers are highly knowledgeable about design and marketing and can make every page of your website look seamless. We possess sound hard and soft skills to ensure you get a website that both users and search engines find appealing. Whether for startups or reputable e-commerce brands, our web developers and designers can turn it into a compelling customer touchpoint.
As a pillar of any digital marketing campaign, your website must be SEO-friendly and user-oriented. We'll do our best to ensure it is, as well as to increase the effectiveness of your marketing efforts. If you're on the hunt for conversions, Print It ZA will use the latest engagement practices to make a conversion machine out of your once-dull website.
Achieving excellence in
website design in South Africa
Creating an eye-catching web design is a means to stand out from the competition and attract customers from all over the world. That's why a next-door web design agency may not be the best choice for your business.
The Print It ZA web design company draws on its experience designing printed materials and helping businesses go digital. We know how to make your website look trustworthy and what practices your competitors usually rely on. Contact us to get down to business and set your website apart.