Five decades ago, consumers were all too happy to cast off the austerity of global war and were ready to enjoy a more carefree life. These people were helped with an explosion of a miracle material—plastic. There was a great future in plastics, they thought!
Mr. McGuire wasn't completely wrong-plastics replaced lots of materials as they were lighter, durable, and easily manipulated and formed, all while creating a fortune for many.
But the real cost was to our environment and the health of living organisms.
Concerns about plastic and its effect on the environment have been evident for some time, and efforts to tackle its ever-increasing impact has focused primarily on recycling. Efforts have barely scratched the surface, and by one estimate, recycling rates in the US will fall to an abysmal 2.9 percent this year.
Founded in 2017, A Plastic Planet has a goal of dramatically reducing the usage and abundance of single-use plastics. Traditional approaches like adversarial business relationships, and "chicken little" fear-mongering have been ineffective, so founders Frederikke Magnussen and Siân Sutherland have taken a new approach towards the plastic crisis.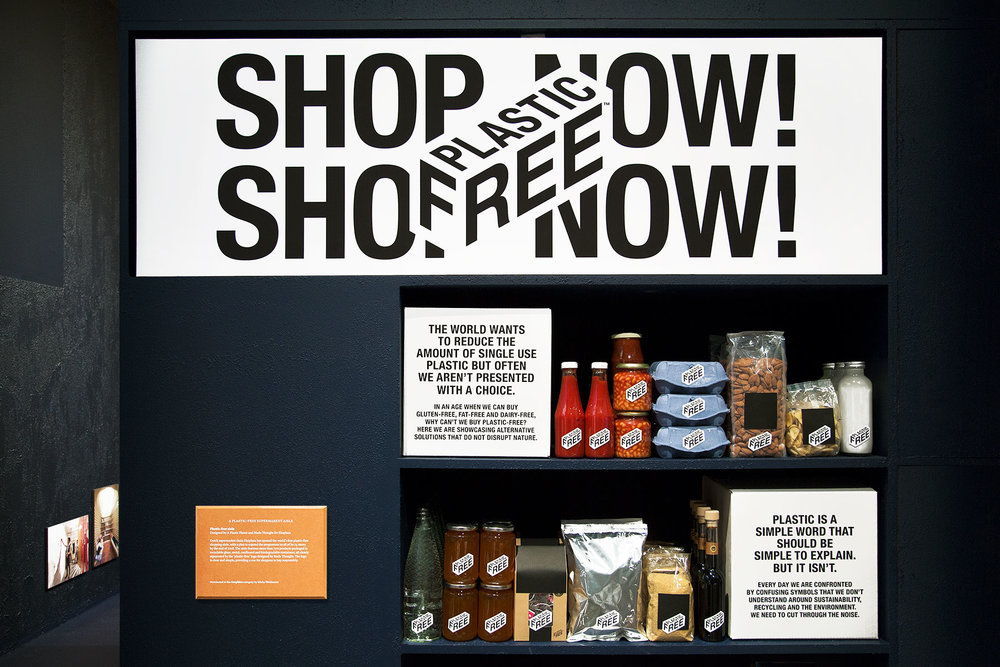 Working with UK-based creative agency Made Thought, A Plastic Planet created a different kind of message, one that's clear, customer-focused and with modern design and flair. Recently, A Plastic Planet was even shortlisted for a Beazley Design Award by the London Design Museum not only for their Plastic Free logo but for the creation of the Plastic Free aisle found at Dutch grocer Ekoplaza.
"One of our mutual goals was to bring the whole plastic issue to a new aesthetic level," says Siân Sutherland. "So much of sustainable and eco messaging doesn't engage and inspire a large part of the public.  The strong modern graphics and straight talk are very deliberate and to have this recognized by the Beazley Design Awards is wonderful as it shows that we have achieved our aim."
In a short period of time, A Plastic Planet has made significant inroads, and they now get to collaborate with retailers and highlight these alternatives, empowering consumers to choose plastic-free products.
"We constantly meet with food and drink brands and international retailers and supermarkets to help them accelerate change in reducing plastic," Siân says.  "The Plastic Free Aisle was, of course, a symbol of this; that change can happen today, not in five or ten year's time. It has been a powerful totem giving consumers the chance to be part of the plastic solution."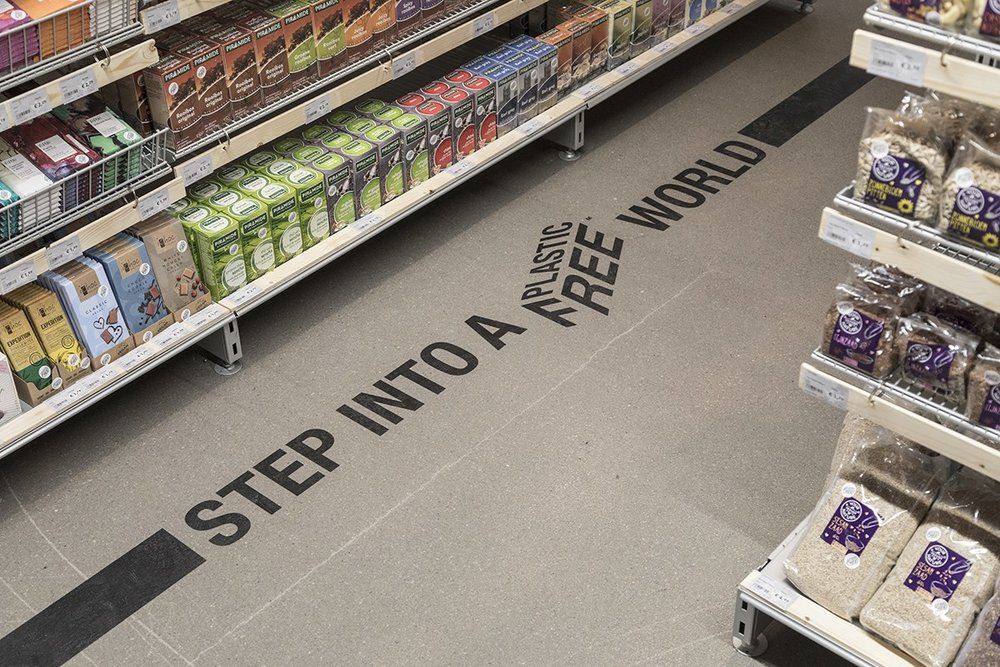 Going plastic-free isn't just for the privileged that can afford to make socially conscious decisions, and they want to make their work accessible to all throughout UK supermarkets.
"As the demand for new materials and biomaterials increases, we will see prices drop.  But interestingly, look at the UK supermarkets that are actually making strides in plastic reduction.  It is not the premium stores. It is the affordable supermarkets like Iceland Foods, Budgens and Co-op," Siân says, adding, "Our most recent project with Thorntons Budgens showed how you can remove excess packaging and replace with simpler, nature-friendly alternatives, especially on fresh produce, and still offer convenience and value.
"Buying plastic free is a right," she says. "It must never be an affordability option."
SOURCE: https://beta.thedieline.com/blog/2019/2/22/a-plastic-planet–madethought-shortlisted-for-beazley-design-award